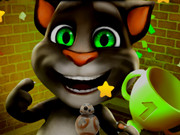 Talking Tom Hidden Stars
Category :
other
Note :
(0)
---
Description :
There are five images about Talking Tom and his good friends. The stars are hidden in the five images. Can you find all of them? The game is without time limitation. You can enjoy the game Talking Tom Hidden Stars as you like.
Keywords :
Talking Tom, Kids, HTML5, Hidden, Boy, Animal, Android, Cat
Control :
Mouse or tap to play.
Author :
video-igrice.com
---
Comments
Please login or register to post a comment